THE MERRY MONTH OF MAY: QUC Workshop at Theatre Centre & SBAR spring session
QUOTE UNQUOTE WORKSHOP
Saturday 7 – Sunday 8th May 2016 (10am – 4pm both days)
The Theatre Centre Main Space 1115 Queen St W, Toronto
**Free childcare provided**
Fusing Music and Physical Theatre - An exciting exploration into a new style of storytelling. This two-day workshop will be an intensive, rigorous exploration of how the performer in an empty space can use the body to create characters, spaces, emotions, poetry, atmospheres, and ultimately tell stories without words. Based on a Lecoq-style method we then translate physical theatre into a new realm enhanced and elevated through song. Using the concepts of harmony, dissonance, tone, resonance, and the composition of many voices working with or against each other, stories are built from sound to stage.
This workshop is open to theatre practitioners who wants to bust out of their comfort zone to explore new ways of storytelling. We encourage artists who have an interest in Lecoq-based physical theatre, the devising method, vocal experimentation or who simply have a desire to push themselves beyond what they know.
The workshop will be facilitated by Amy Nostbakken and Norah Sadava.
Workshop cost: $100 +HST
** Full scholarships available please enquire for further details.
** Sign up before April 10th and receive an early bird discount
** Free childcare is provided. For participants in need please enquire by April 23
Space is limited so please sign up early
To register or to find out more please contact: info@quoteunquotecollective.com
Quote Unquote Collective is hosting our Spring Artist Retreat May 9-13 2016
Do you have a project you are working on, but just can't find the time or space to really get your hands, heart, and head into it? SBAR (Stone Boat farm Artist Retreat) is an opportunity to disconnect from the outside world in order to develop your project in a creative and productive environment. A collection of artists of different disciplines living and working side by side in the countryside...what more could you ask for?
The farmhouse, set in picturesque Lanark County, Ontario (approx. 3.5 hours from Toronto) has a variety of different working spaces. From outdoor fields, to a workshop, to the studio (an ideal recording space), the parlour (a rehearsal room) and a variety of other nooks and crannies, there is space for all varieties of art-making. Visual artists, writers, dancers, theatre makers, crafters, photographers, musicians, video-artists, food artists, there is nothing that is not worthy if you are willing to work.
The Breakdown
Each day is structured as follows:
9am-1pm – Individual work
1pm-2pm – Group lunch and sharing
2pm-6pm – Individual work
6pm – Mandatory cocktail hour
7pm – Group dinner and goal setting for following day
9pm – Group activities are decided upon based on participants and curiosities (ie. Movies, night-walks, craft projects, showings, etc.)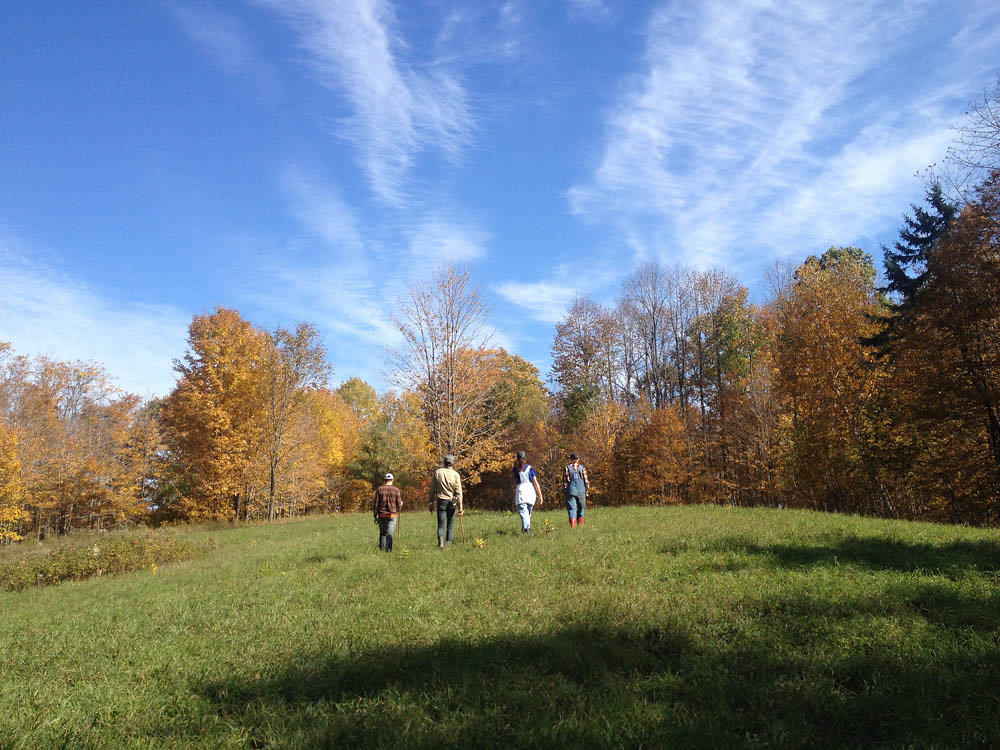 TO APPLY
Please send us a short summary of your project, a statement of interest and intent, and a brief cv/bio. Applications should be no longer than one page.
DEADLINE: April 25, 2016
For more information or questions, please email info@quoteunquotecollective.com